R&M Wholesale Electric is now firmly established in Dubai and has already received its commercial registration in Qatar. The company has already started winning projects in its own right: in Oman; in Qatar with a major US oil firm and in Abu Dhabi.

The WE Store at the Dubai facility offers high quality components off the shelf and building an impressive inventory of those essential elements that can delay a project – cables and ties, components, switch gear, junction boxes, control stations, lighting for industrial and Ex applications.

Procurement managers are able to access stock via the internet and order products through their company's account and will soon be able to purchase using credit cards. As Jim Graham, regional director for R&M Wholesale Electric and a 20-year veteran of the construction and oil and gas industries says: "A multimillion dollar project can be delayed by the smallest item that has been overlooked in the purchasing process. We aim to change that."

R&M Wholesale Electric is using is using an internet-based construction materials management system (CMMS), pioneered by Industrial Distribution Systems (IDS), which provides a complete materials management system and services system designed to reduce the total installed cost of a project by focusing on productivity and the continuous improvement of the process steps associated with the project.
CMMS link engineering, purchasing, construction, accounting, vendors and other critical functions to manage the procurement, warehousing, delivery and reporting of materials for construction projects worldwide.
In fact, the term 'construction materials management system' was coined by
Industrial Distribution Systems (IDS) and has become an industry term for material management, Graham says.
R&M

's

D

istribution

N

etwork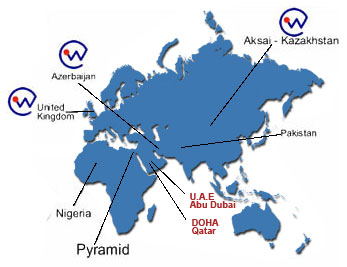 CMMS creates a project specific catalogue ensuring that the same material will be used throughout the project and establishing the common link for engineering, procurement, accounting, construction and the CMMS system itself. This avoids designing in long lead-time items and reduces the number of specialty or non-stock items required.
R & M Wholesale Electric recognizes that the profitability and success of a project hinges on having the right materials available in the correct quantities when they are needed.
Within the partners and, more importantly, on the ground in the Middle East, they joint venture can apply a combination of field construction experience and product knowledge to major oil and gas projects to advise its clients.
CMMS gives project and procurement managers secure accurate and detailed data on take-offs via the Internet.
In particular attention is directed to specialty, non-stock materials, helping the project avoid the liability of too much surplus, while facilitating project reporting and accounting by tracking material.
Thus contractors can schedule material deliveries in work packages when and where they are needed.
Graham intends that CMMS system will be further enhanced by the supply of commodity material provided by R & M Wholesale Electric from warehouse and storage close to or even on site for major projects.
Thus real-time, any-time access to the project file is available via the Internet, making global project management easier and more efficient.
The System identifies and records last minute substitutions or changes immediately and provides computer-generated reports on demand as CMMS's configurable components allow customers to tailor the system to fit specific projects and reporting requirements.